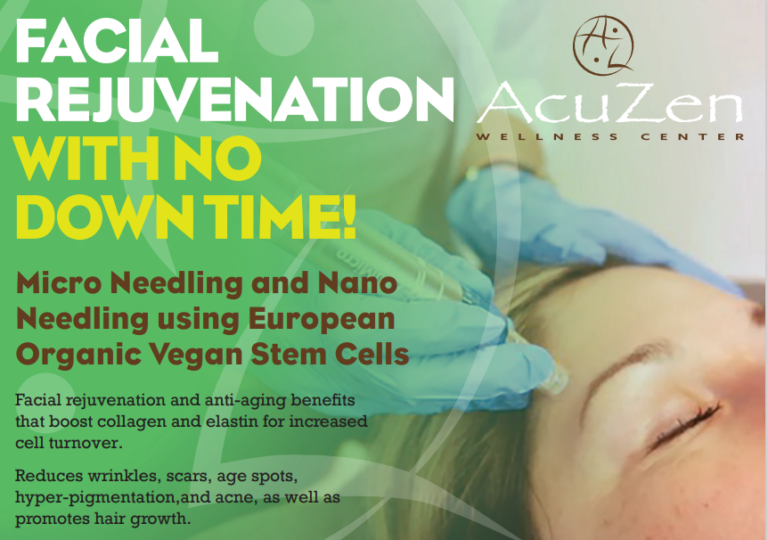 Facial Rejuvenation with no down time!
Micro needling uses an oscillating motion with the Insertion of fine short needles into the skin for the purpose of rejuvenation. 
It accesses the dermis layer .5mm of the skin targeting fibroblasts.  This creates a small wound to encourage enhanced collage and elastin production.  Keratinocytes makeup 90% of cells in the epidermis producing keratin.  Microneedling accesses the dermis and fibroblasts directly, without damaging the keratinocytes in the epidermis like many other cosmetic and surgical interventions. 
It naturally rejuvenates wrinkles without painful surgery or injections.  it increases serum absorption by 3000%. 
It can be done one time per month allowing cell turnover. 
It can be beneficial for wrinkles, scars, age spots, acne reduction, and hair growth.
It lasts 3-5 years..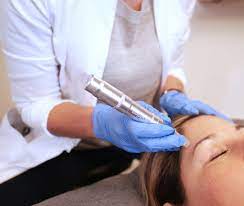 Nano needling uses an oscillating motion to increase serum infusion into the skin.  It affects the epidermis upper .15mm level of the skin.  
It can be done weekly to exfoliate, help reduce hyperpigmentation, increase cell turnover, and enhance skin rejuvenation.  You will have an immediate glow with no down time. 
It can treat sensitive area such as the infraorbital ridge around the eyes.
Other treatments can be exceedingly costly, cause harmful changes to the skin, and look worse when they wear off.  These may include Microdermabrasion, Chemical Peels, LSR- laser skin resurfacing, Botox injections, Dermal fillers, IPL- intense pulse lights.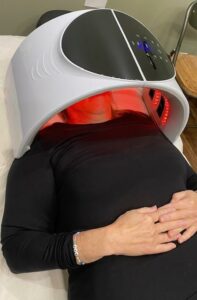 LED Laser Therapy
BIO Light therapy uses infrared low- level laser to treat skin conditions such as fine lines, wrinkles, age spots, and acne. It promotes skin laxity and collagen production to enhance facial rejuvenation.
It is also used on the body to reduce inflammation and pain.
You may experience some redness for 8-12 hours after the treatment.
Avoid the sun after the treatment. Use Hyaluronic Acid.
Avoid facial soap the same day of the treatment. Ok to wash the face with some warm water.
Resume normal facial routine tomorrow.
It takes 2 weeks to see the full results from the treatment. Wait 1 month to repeat microneedling, but can do nanoneedling weekly to speed up the results.
Gradual changes will be seen, but it takes 4-6 treatments to see the overall results.
After treatment flaking is NOT the skin peeling, but the serum drying. Use a little water and massage in for added hydration
Before and After (Coming Soon)
Testimonials (Coming Soon)
tCave Massage is a great investment for anyone who wants to receive a soothing relaxing massage. I was skeptical because I didn't know where to start. I also didn't want to buy the wrong type of oil - that's where I came across Salt Cave. I researched their oil and got the Salt Cave Massage oil and was impressed with the
Cave Massage is a great investment for anyone who wants to receive a soothing relaxing massage. I was skeptical because I didn't know where to start. I also didn't want to buy the wrong type of oil - that's where I came across Salt Cave. I researched their oil and got the Salt Cave Massage oil and was impressed with the
Cave Massage is a great investment for anyone who wants to receive a soothing relaxing massage. I was skeptical because I didn't know where to start. I also didn't want to buy the wrong type of oil - that's where I came across Salt Cave. I researched their oil and got the Salt Cave Massage oil and was impressed with the