5 Towns Salt Cave Experience
We offer a Deluxe Salt Cave accommodating parties of up to 15 people for a unique experience lasting 45 minutes in total bliss.  Relax and let go on a zero gravity lounge chair, with a sweater blanket and cozy up!
We also offer a High Octane  Salt Room that can accommodate 1-2 people in a private setting lasting 20 minutes of serenity for those on the go. This is a great option for young children suffering with Asthma who are accompanied by a parent, and anyone who wants a private session. 
You can wear your regular clothing during a salt cave therapy session!
No shoes, food or drinks are allowed in the salt cave.  Lockers are provided to house your shoes and personal belongings for your comfort.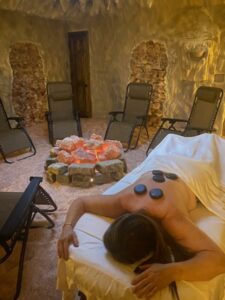 Salt Caves have recently gained popularity in the United States. They have been utilized in Europe for many years. The Himalayan salt originated in the Himalayan mountain ranges in Pakistan. It offers tremendous health benefits including overall Relaxation, respiratory improvement with Asthma, Emphysema, COPD, Allergies, and Sinusitis. It also has proven healing benefits for skin conditions including Eczema and Psoriasis, and much more. The salt is naturally anti inflammatory, anti bacterial, anti viral, anti fungal, and antimicrobial. The relaxing treatment offers an overall sense of serenity, just by breathing!
The salt air is made up of negatively charged ionized salt
particles.  These particles help to clear pollen, viruses, and toxins of
the lungs and nasal passageways.  This works to both treat and prevent
illness..
What is amazing about the wonderful Himalayan pink
salt, in the salt cave is the actual delivery system.  You simply need
to relax and lounge in the dimly lit salt cave while breathing in the
Himalayan mist that is dispersed in the air.  It requires no work on
your part and is extremely relaxing.  Much like Acupuncture, the health
benefits build on itself, and accumulate as you go more often.   
Who Can Benefit From Salt Therapy?
Himalayan Salt Therapy is a wonderful ancillary treatment to Acupuncture and can become an integral part of your wellness regimen for optimal health in body and spirit.
Beneficial for helping with stress and anxiety, as well as Insomnia.
The respiratory benefits for salt therapy are numerous. Inhaled salt helps stimulate the body's process of cleansing system, and helps eliminate foreign particles like pollutants and allergens to restore proper respiratory functions.
Salt therapy helps regulate Ph levels and enhance the skin's existing regenerative properties. It can also boost the production of collagen fibers for rejuvenation, and lymph cells to boost the immune system.
Book your appointment now
To service the whole person through a conglomeration of different modalities including Acupuncture, Herbal Medicine, Cupping, E-Stim, GuaSha, Moxibustion & Tui-Na. We also offer Massage and Salt Caves, to work together with our clients to achieve complete wellness in a therapeutic and relaxing environment.
Acuzen.com © Copyright 2020. All Rights Reserved.